Why Choose Facebook Posts For Marketing?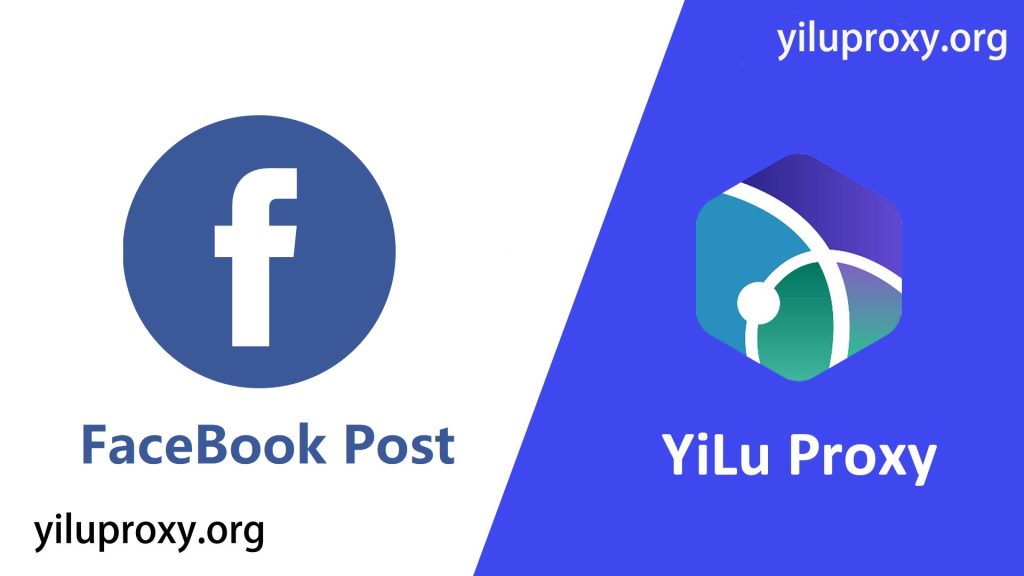 1. More Accurate Advertising and Marketing.
The personal preferences, shopping history, and social connections of more than one billion Facebook users worldwide form a powerful database on the Facebook platform. This database has become the core weapon of Facebook's advertising and marketing. By using the Facebook platform to advertise, you can precisely target the customers you need.
2. More Powerful Traffic.
As the most active social platform in the world, Facebook is a very large traffic pool for sellers. The seller only needs to do some strategic promotion to guide potential customers to their store homepage or products. You can use the IP proxies of various countries in YiluProxy to achieve accurate regional delivery because YiLu Proxy is an experienced proxy IP provider with IP proxies in more than 200 countries around the world. And its static IPs enjoy exclusive treatment which can stably keep the IP segment valid for a long time.
3. Enter the Mobile Market.
Online users on the mobile side are catching up with PC users, so many brands and sellers are also starting to shift their marketing costs to mobile. Aside from the advantage of the number of users, Facebook has launched mobile native ads since 2013, which have received positive feedback from advertisers and have already accounted for 23% of its total revenue. Facebook is the first advertising media to figure out a formula for mobile, which is the source of future marketing power.

What Tips about Posting on Facebook?
If you want to market your brand or product on Facebook, you should be aware that how to start with your posts. It is not only posting, but with many techniques. Failure to do these, you won't receive a satisfying marketing effect.
1. Update Your Page Status on Facebook.
We can attract followers to our Facebook page by posting photos and videos, posting about events, and creating and participating in group discussions. This may seem like a simple thing, but there are many techniques to pay attention to. Facebook posts can contain a lot of specific information and are longer and more informative than Twitter. Facebook posts have a central theme in each paragraph and are concise and clear. Facebook posts can contain URLs off-site, whether it be a video lecture, a company website, a product promotion blog, or something else.
2. Posting Time.
The best time for marketers to post Facebook marketing content is at 8 pm EST. In addition to this, the online time for fans varies from country to country. If you are marketing to Germany, it is best to post content in the relevant time zone and make sure your IP address belongs to your target region. If not, you can use the Yilu proxy that provides IP addresses from various countries. YiLuProxy updates a large number of IP addresses every day and offers some dynamic IPs for free for a limited time.

3. The Optimal Length of A Post.
In a survey conducted by new squid, the average word count of the 100 most shared posts with the highest interaction rate ranged from 11 to 24. The fewer words in the post, the better the results. If your post has too many words, it's a good idea to start your post with a concise summary of your points which keeps your followers interested.
4. Set Location
Setting the location of status updates is also a common technique used in social media marketing. This feature allows fans to see the location of status updates at a glance, especially when creating offline campaigns, and the location settings must be specific.

How to Increase the Exposure of Your Posts?

Aside from the above posting tips, it is also crucial to raise engagement with followers. Facebook has an algorithm to determine the importance of a post, and mastering this algorithm will increase the chances of the post being seen.
1. Facebook likes big life events such as births, graduations, and career changes. Facebook wants people to live a positive life, so congratulating someone or something will ensure that your post is seen by more people.
2. Try to avoid asking fans to like, share or comment on your posts, as Facebook will automatically reduce the frequency of posts that ask for likes.
3. Use trending topics. This is an organic way to increase the popularity of Facebook posts because Facebook wants to be one of the ways that people get hot news. Using trending topics is a way to increase the visibility of posts. It's an interesting phenomenon that not everyone sees the same trending topics in social media, for example, tech geeks see more technical information and gossip queens see more star gossip. So try to make your Facebook content interesting and broad. You can use IP addresses from various countries in YiLu proxy to cater to the habits and preferences of that country or region. Use the dynamic IP proxies of various countries in YiLuProxy in a wise way so that your posts can have more interactions.
4. A lot of links are involved. Facebook algorithms consider posts that include links to be more attractive. If it's your own page, make sure the links have a good preview visual effect.
5. Multiple pictures included in the post. Facebook considers such a post to be about some important life event that will bring the post to the stream top for fans. If you want to market items for Christmas, you can post many Christmas pictures to fascinate people on Facebook.
6. Avoid using angry or negative language. An experiment run by Facebook found that positive posts made by users were more likely to be shared. And Facebook has incorporated the experiment into its algorithm, and posts that are clearly negative are less visible now.
7. Posting times are controlled between 8 a.m. and 9 p.m. when people are most active. In particular, people are more likely to visit Facebook at 9 a.m. when they go to work, at 12 noon for lunch, at 5 p.m. when they leave work, and at 9 p.m. or later when they take a break. In addition, Saturdays are also popular.
8. Stay active. If users use Facebook frequently, Facebook will give them and the brand more visibility. So make sure to post content regularly, at least once or twice a day.
Final Words
Compared to common company press releases and blog posts, posting and commenting on Facebook is very different. Posting content in the right way and interacting and communicating with your fans will lead to better user engagement and reputation for your products and services.
Marketers will give different purposes to engage fans with Facebook pages. The bottom line is that everyone wants to know if or how engaging their content is, which is measured by engagement. And that engagement will convert into more fan action.