Indigo is an antidetect browser that can help you manage multiple accounts and hide your real identity online. When you create a browser profile in Indigo browser, you get an isolated environment for browsing the Internet. Indigo replaces your computer's original fingerprint with a valid one from its fingerprint database. At the same time, YiLuProxy provides a different proxy IP for each browser profile, so each browser profile looks like a browser on a different device in a different location. People who work in e-commerce, social media management, web scraping, brand protection, and so on, need to use Indigo browser and YiLuProxy to manage multiple accounts and prevent accounts from being associated and banned.
The article shows how to integrate YiLuProxy with Indigo browser.
YiLuProxy Settings
Proxy port: random or custom, here I set 1080;
Bind address: 127.0.0.1;
Proxy Engine Settings: Other Proxy Tools;
Proxy Rules: select the second and fourth proxy rules.
Then save the settings.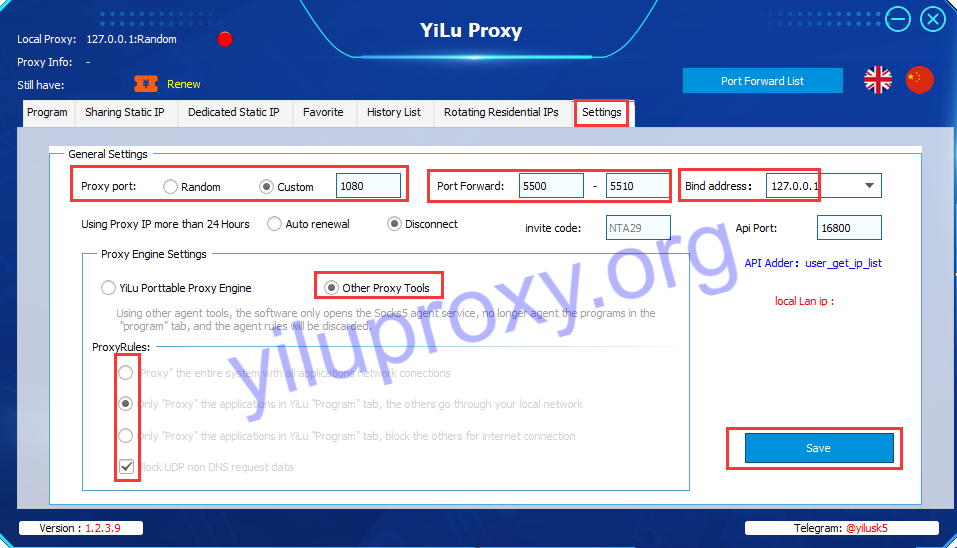 Local port forward
Right-click an IP and click "Connect" or directly double-click an IP.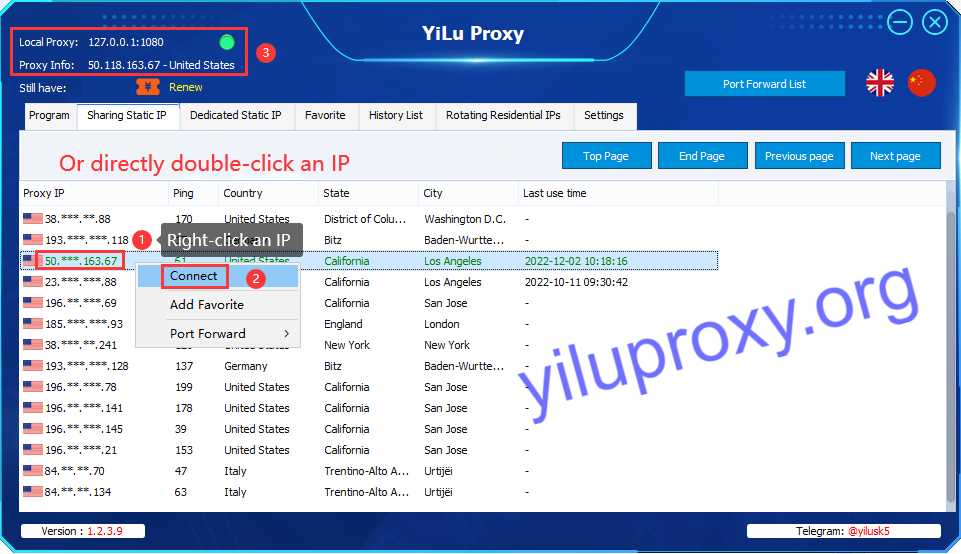 Multi-port forward
For YiLuProxy static IPs or dynamic IPs, right-click an IP and select a proxy port.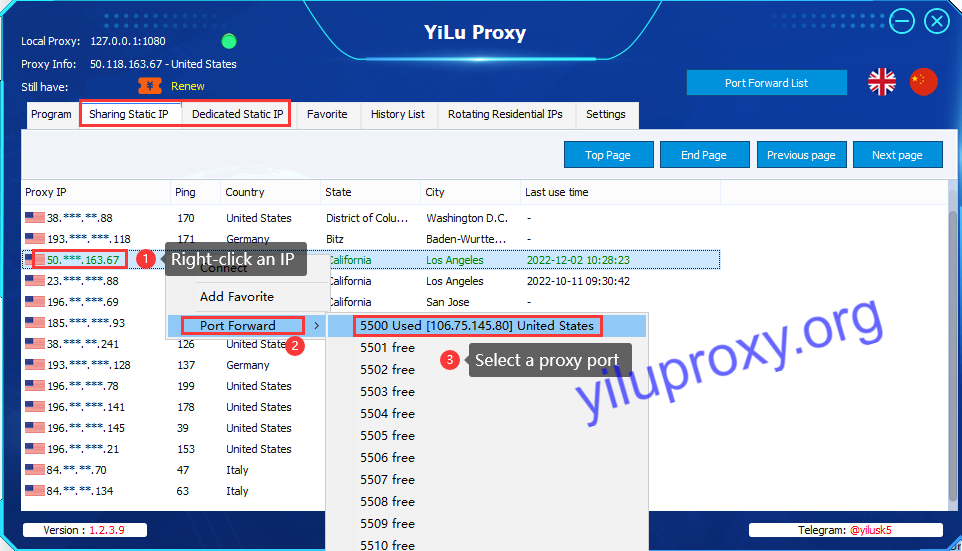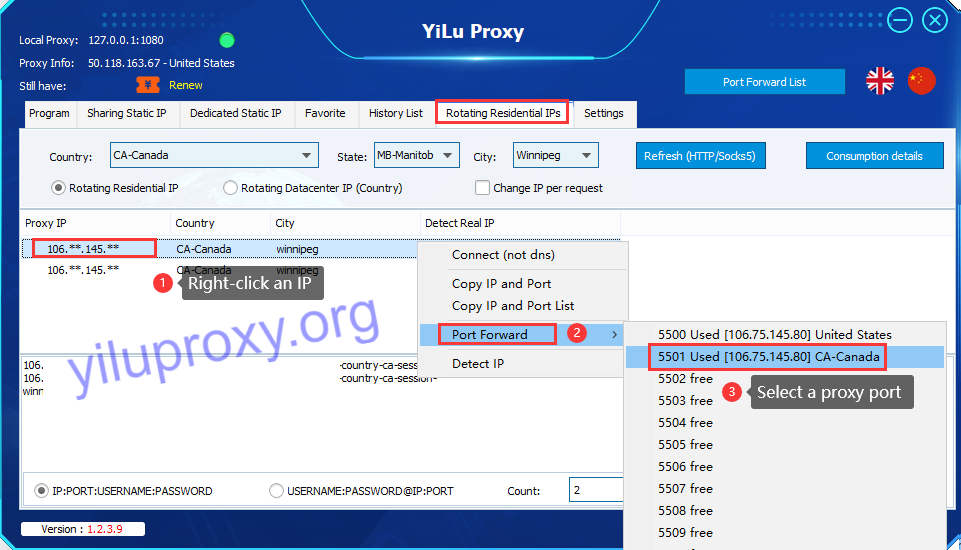 The shown IP is YiLu Proxy server's IP, not the real dynamic IP address.
You can right-click a dynamic IP and click "Detect IP" to check the real IP address.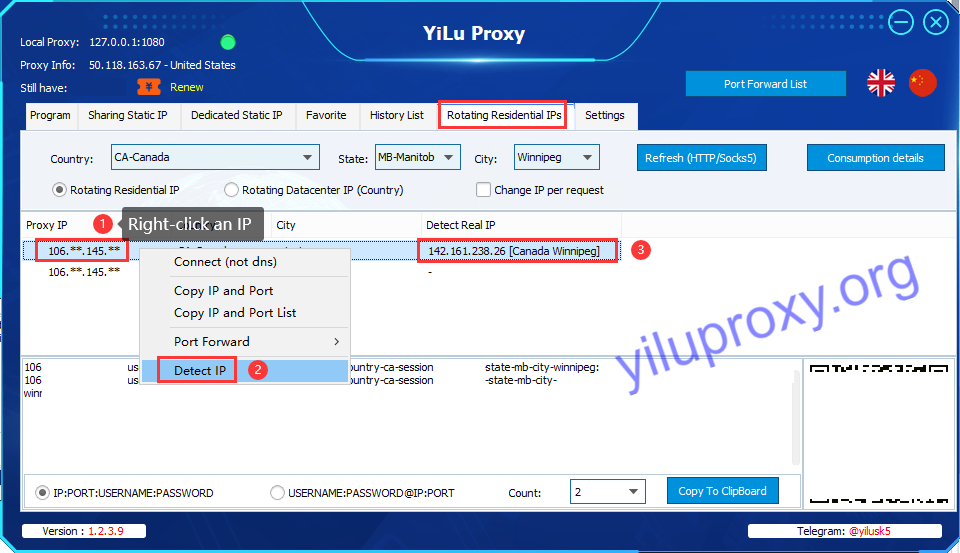 You can view the multi-port forwarding information on the "Port Forward List".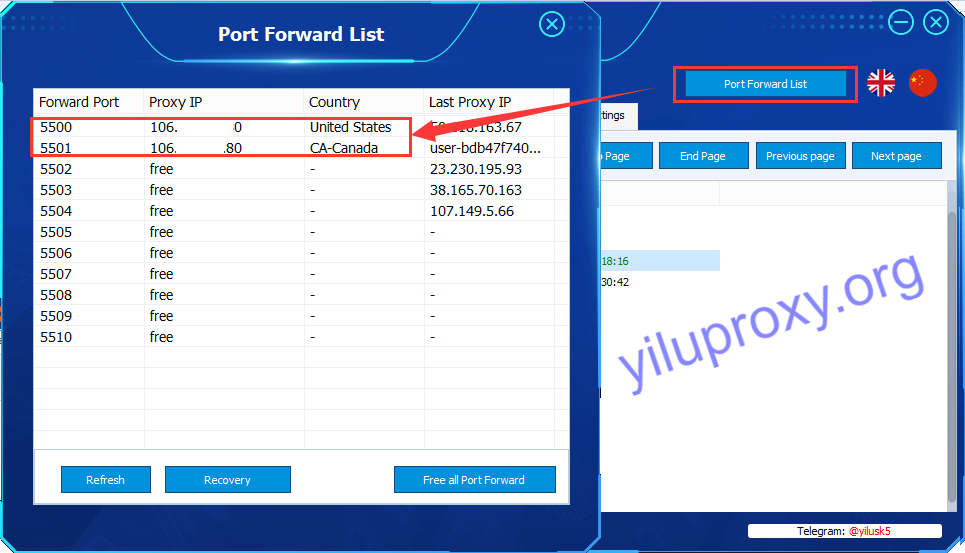 Indigo Browser Settings
Download Indigo browser on its official website: https://indigobrowser.com
1. Create a browser profile
Click "Create New".
2. Enter profile details.
Enter browser profile name, select a operating system and browser.
You can edit other browser fingerprints, such as user-agent, timezone, screen resolution, language.
Then click "Edit proxy settings".
3. Set Proxy information.
Connection type: Socks 5 proxy
Host IP address: 127.0.0.1
Port: such as 1080, 5500, 5501.
You can also copy a YiLuProxy dynamic IP information to set proxy.
a. Select rotating residential IP or datacenter IP;
b. Select a country, state, and city;
c. Select IP information format: IP:Port:Username:Password;
d. Set the number of refreshing IPs;
e. Click "Refresh";
f. Right-click an IP and click "Copy IP and Port".
Then paste proxy IP, port, username, and password in Indigo Browser.
Then click "Check proxy".
The IP address, country, and timezone will appear, and that means the proxy IP connects successfully.
4. Save and run the browser profile.
A. Click "Create profile" to save the profile.
B. Run the profile.
Click "Start" to run the browser profile.
The virtual browser will automatically enter a web page that show the IP address.