Simple Proxy Switcher is a proxy manager extension that supports HTTP and HTTPS protocols, which can help users quickly switch proxy IPs on the Google Chrome browser. Next, I will tell you how to use Simple Proxy Switcher with
YiLuProxy
.
1. Download and Install Simple Proxy Switcher extension.

2. Enter proxies information.
A. YiLuProxy Settings.
a. Proxy port: random or custom, such as 1080;
b. Port forward: set the range of multi-port, such as 5500-5505;
c. Bind address: 127.0.0.1;
d. Select "YiLu portable proxy engine"
e. Select the second and fourth proxy rules.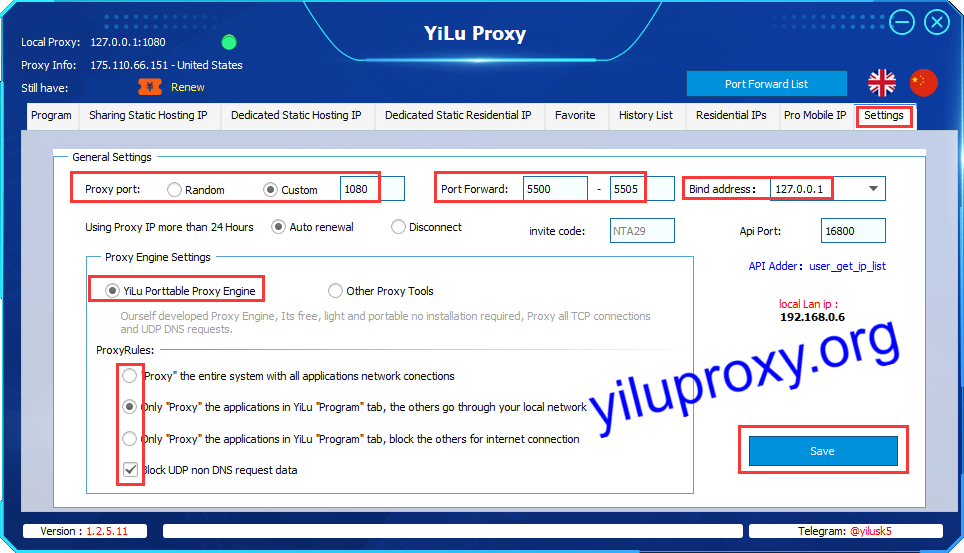 B. Simple Proxy Switcher Settings.
Click the extension icon and import proxies using IP: port, IP:port:login: password, or login:password@IP: port format.
IP: port is suitable for all YiLuProxy IPs' local port forwarding or LAN port forwarding.
Right-click an IP and select a port.
IP: port:login: password and login:password@IP: port formats are suitable for YiLu Proxy dynamic IPs and 4G/5G mobile IPs.
a. Select proxy IP type: rotating residential IP, rotating datacenter IP, mobile IP, or pro residential IP;
b. Select a format for extracting IP information;
c. Set the number of generating IPs;
d. Select a country, state, and city;
e. Refresh;
f. Right-click an IP;
g. Copy IP and port.
Note: After extracting proxy IP information, you can use these proxy IPs without running the YiLuProxy client.
3. Select a proxy.
Select a proxy to use, then check the IP address, which is consistent with YiLu Proxy IP.